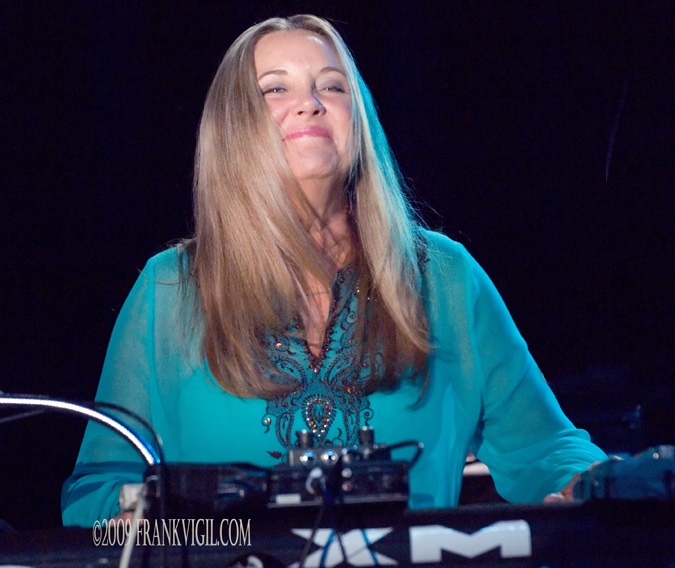 Honey Piazza va néixer com Debra Alexander, Pianista y compositora de temas com Locomotive song (2014), Blues at The Brevery (2005) i Sierra Center Stage (2004). Ella està casada amb Rod Piazza des de fá més de trenta anys.
--------------------------------------------------------------------------------------------------------------------------
Honey Piazza of "Rod Piazza and the Mighty Flyers", one of our national treasures, who has been Playing piano with Rod Piazza for almost 40 yrs (Rod and Honey have been married for over 30 yrs.) unfortunately had a serious scare about a month ago. At about 1 pm on Dec. 9th she noticed a tingling in her arm and numbness on one side of her face. Honey's daughter Maya noticing that her speech was slurred called 911 and she was taken to the hospital. After three days in the hospital it was determined that Honey had experienced a slight heart attack in her sleep that had evolved into a minor stroke. After numerous visits to the doctor that week, Honey still insisted on playing piano at Rod's birthday party just a week later.
I saw the Flyers play last night at Webers and again Honey rose to the occasion bringing us a taste of that great signature blues piano that she does so well. Having been friends with Rod and Honey for over 30yrs, I know that when it comes to "bringing it" to her fans,audience and friends Honey is always on... a true professional. Those that have seen her or know her will attest to her warmth and loving approach to anyone she comes in contact with. I know that this experience must have scared the hell out of her and the fear of future repercussions must be ever present.
Honey knows nothing about this post, however, I did ask Rod about his feelings on the post and got a very positive response. I am asking that who ever would like to offer support in the way of a card or letter please mail it to Honey Piazza in care of Delta Groove Music at 16501 Sherman Way suite 100 Van Nuys Ca. 91406. Cards and letters will be forwarded to Honey at the Piazza's home. Please do not send money.
Honey, Rod and the Mighty Flyers reunion shows will take place as scheduled on the Legendary Blues Cruise later this month as well as any future gigs. The more positive cards and letters received before the cruise the better.
As some of you may not know, Honey traveled in her early twenties, on her own, to Chicago in search of the source of the blues music she came to love as well as the music of her idol the late Otis Spann. Although she missed Spann by only a couple of years she ended up being warmly welcomed by Robert Lockwood Jr. and the "Aces", Dave and Louis Myers along with Fred Below who were all a part of Little Walter fame among other Chicago legends. After meeting Rod she went onto not only play a key role in Rod's band but also to record and play with all of what Rod calls "The L.A. Blues Mafia" Big Joe Turner, Smokey Wilson, George Smith, Shakey Jake, Johnny Dyer and a host of other blues greats. She even took the piano seat on a Jimmy Rogers album backed by the Mighty Flyers and produced by Rod.
We plan on hearing a lot more blues and boogie woogie from Honey in the years ahead...so please share this post with as many friends as possible,all your support for Honey at this time will be greatly appreciated
Thank you for taking the time to read this and keeping the blues alive.
Randy Chortkoff
Debra "Honey" Piazza (born April 24, 1951) is an American piano player. She is a founding member of the band Rod Piazza and the Mighty Flyers.
Piazza was born in Fairfield, California on April 24, 1951.Her father was in the Air Force and her family moved to England for three years, when she was a child. There she started taking classical piano lessons at the age of four and pursued the lessons until the age of 16 after they had moved back to California. She enjoyed playing jam sessions with her friends, but she really discovered piano blues when she heard a record of Otis Spann. For the next two years she would practice extensively.
In 1972 she went to Chicago, and played with a number of blues musicians. After her return to California she saw a concert of Rod Piazza, who at the time was playing with a band called Bacon Fat. Being impressed with his music she arranged to meet him for an audition. As a result she joined the band and has played with Rod Piazza ever since.
They got married several years later and reside in Riverside, California.






Honey Piazza and Marcia Ball jamming together on the same piano! Excellent closing to an awesome weekend of blues at the North Atlantic Blues Fest in Rockland Maine 2015