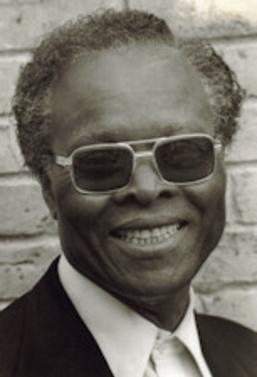 It´s a Boogie Woogie Time de los domingos por la tarde en Sentir el Blues os ofrece hoy unas piezas del pianista LEONARD CASTON, que formó junto a Willie Dixon los grupos The Big Three Trio y The Five Breezes , os ofrecemos una de las piezas que forman el albúm que podéis oir entero a continuación
Leonard Caston Sr. was born in Sumrall, Mississippi, and raised in Meadville, Mississippi, from age eight. He lived in Chicago from 1934 to 1936 but then moved back to Mississippi after his family relocated to Natchez. He learned to play piano under the influence of Leroy Carr and Art Tatum; he has also credited Andy Kirk, Jimmy Rogers, and his relative Kim Weathersby as stylistic influences.
In 1938 he returned to Chicago, where he met with Mayo Williams, a producer for Decca Records. Williams recorded him in a trio with Eugene Gilmore and Arthur Dixon. Dixon introduced Caston to his brother, Willie Dixon. Caston, Willie Dixon, Jimmy Gilmore, Joe Bell, and Willie Hawthorne then formed the Five Breezes, a group in the style of the Ink Spots. In 1940, Caston recorded his first solo record for Decca, "The Death of Walter Barnes", with Robert Nighthawk on harmonica.
The Five Breezes disbanded in 1941, and Caston began playing in the Rhythm Rascals Trio with Alfred Elkins and Ollie Crawford. The group did USO tours and in 1945 performed at a conference for Dwight Eisenhower, Bernard Montgomery, and Georgy Zhukov. After the war, Caston recorded under his own name and with Roosevelt Sykes and Walter Davis and performed in many studio sessions. He also recorded again with Dixon as the Four Jumps of Jive and the Big Three Trio, playing in both groups with Bernardo Dennis. Ollie Crawford joined this group soon after Dennis's departure. The Big Three Trio recorded for Columbia Records and Okeh Records.
The Big Three Trio's last sides were recorded in 1952, but the group did not officially break up until 1956. Caston continued performing for decades afterwards, reuniting with Dixon to perform in 1984.
Caston released an album, Baby Doo's House Party, shortly before his death of heart disease in Minneapolis, Minnesota, in 1987.
His son, Leonard Caston, Jr., is an R&B singer and songwriter, who sang with the Radiants, among other endeavors.
-----------------------------------------------------------------------------
William James "Willie" Dixon (July 1, 1915 – January 29, 1992) was an American blues musician, vocalist, songwriter, arranger and record producer. A Grammy Award winner who was proficient on both the upright bass and the guitar and as a vocalist, he is perhaps best known as one of the most prolific songwriters of his time. Next to Muddy Waters, Dixon is recognized as the most influential person in shaping the post–World War II sound of the Chicago blues.
Dixon's songs have been recorded by countless musicians in many genres as well as by various ensembles in which he participated. A short list of his most famous compositions includes "Hoochie Coochie Man", "I Just Want to Make Love to You", "Little Red Rooster", "My Babe", "Spoonful", and "You Can't Judge a Book by the Cover". These tunes were written during the peak of Chess Records, 1950–1965, and performed by Muddy Waters, Howlin' Wolf, Little Walter, and Bo Diddley; they influenced a generation of musicians worldwide.
Dixon also was an important link between the blues and rock and roll, working with Chuck Berry and Bo Diddley in the late 1950s. His songs were covered by some of the biggest artists of more recent times, such as Cream, Jeff Beck, the Doors, Led Zeppelin, the Rolling Stones, Steppenwolf, Bob Dylan, and Jimi Hendrix. The debut albums by the first six of those artists all feature at least one of his songs, a measure of his influence on rock music.
Dixon was born in Vicksburg, Mississippi, on July 1, 1915. His mother, Daisy, often rhymed things she said, a habit her son imitated. At the age of seven, young Dixon became an admirer of a band that featured pianist Little Brother Montgomery. He sang his first song at Springfield Baptist Church at the age of four Dixon was first introduced to blues when he served time on prison farms in Mississippi as a young teenager. Later in his teens, he learned how to sing harmony from a local carpenter, Theo Phelps, who led a gospel quintet, the Union Jubilee Singers, in which Dixon sang bass; the group regularly performed on the Vicksburg radio station WQBC. He began adapting his poems into songs and even sold some to local music groups.
Dixon left Mississippi for Chicago in 1936. A man of considerable stature, standing 6 and a half feet tall and weighing over 250 pounds, he took up boxing, at which he was successful, winning the Illinois State Golden Gloves Heavyweight Championship (Novice Division) in 1937. He became a professional boxer and worked briefly as Joe Louis's sparring partner, but after four fights he left boxing in a dispute with his manager over money.
In 1939, Dixon was a founding member of the Five Breezes, with Caston, Joe Bell, Gene Gilmore and Willie Hawthorne. The group blended blues, jazz, and vocal harmonies, in the mode of the Ink Spots. Dixon's progress on the upright bass came to an abrupt halt with the advent of World War II, when he refused induction into military service as a conscientious objector and was imprisoned for ten months. He refused to go to war because he would not fight for a nation in which institutionalized racism and racist laws were prevalent. After the war, he formed a group named the Four Jumps of Jive. He then reunited with Caston, forming the Big Three Trio, which went on to record for Columbia Records.
Dixon signed with Chess Records as a recording artist, but he began performing less, being more involved with administrative tasks for the label. By 1951, he was a full-time employee at Chess, where he acted as producer, talent scout, session musician and staff songwriter. He was also a producer for the Chess subsidiary Checker Records. His relationship with Chess was sometimes strained, but he stayed with the label from 1948 to the early 1960s. During this time Dixon's output and influence were prodigious. From late 1956 to early 1959, he worked in a similar capacity for Cobra Records, for which he produced early singles for Otis Rush, Magic Sam, and Buddy Guy. He later recorded for Bluesville Records. From the late 1960s until the mid-1970s, Dixon ran his own record label, Yambo Records, and two subsidiary labels, Supreme and Spoonful. He released his 1971 album, Peace?, on Yambo and also singles by McKinley Mitchell, Lucky Peterson and others.
Dixon is considered one of the key figures in the creation of Chicago blues. He worked with Chuck Berry, Muddy Waters, Howlin' Wolf, Otis Rush, Bo Diddley, Joe Louis Walker, Little Walter, Sonny Boy Williamson, Koko Taylor, Little Milton, Eddie Boyd, Jimmy Witherspoon, Lowell Fulson, Willie Mabon, Memphis Slim, Washboard Sam, Jimmy Rogers, Sam Lay and others.
In December 1964, the Rolling Stones reached No. 1 on the UK Singles Chart with their cover of Dixon's "Little Red Rooster".

More info :
http://sentirelblues.blogspot.com.es/search?q=LEONARD+CASTON+